The Denver Ghostbusters are the heroes of the fan-made films and a web comic.
The Series of Films and a Web Comic
Edit
The Denver Ghostbusters set up by Ed Spengler (nephew to Egon)
Characters
Edit
Ed Spengler, nephew of Egon Spengler. Like his uncle, Ed is the team's resident scientist. One of his inventions is the Neutrino Pack, a vastly more powerful version of the Proton Pack, but also unstable and liable to explode.
Pavel Karnov, "trained by the best after the fall of the Iron Curtain." Former assistant to the archeologist excavating the tomb, Klaus Constantin, who was the villain of Return of the Ghostbusters.
Ghosts and Villains: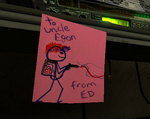 External Links
Edit
Braxtanfilms web site which made both Freddy vs Ghostbusters and Return of the Ghostbusters
Ad blocker interference detected!
Wikia is a free-to-use site that makes money from advertising. We have a modified experience for viewers using ad blockers

Wikia is not accessible if you've made further modifications. Remove the custom ad blocker rule(s) and the page will load as expected.